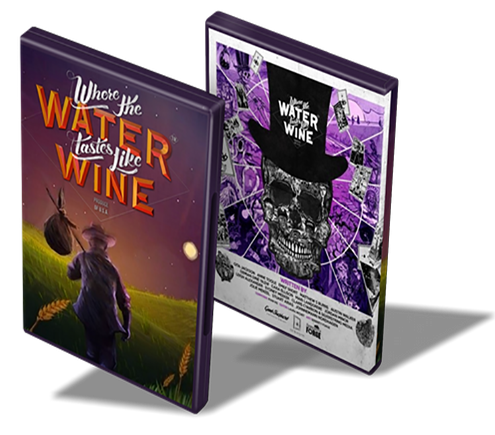 Where the Water Tastes Like Wine 2018 1.3.1 [GOG]-DRM-free | 2.67 GB
♦ Release date: February 28, 2018 | ♦ Developers: Dim Bulb Games, Serenity Forge | ♦ Publisher: Good Shepherd Entertainment | ♦ Publication Type: License from pic | ♦ Game version: 1.3.1 (19983 by GOG) | ♦ Platform: Windows | ♦ Interface and subtitle language: Russian (RUS); English (ENG); German (DEU); French (FRA) | ♦ Language of voice: English (ENG) | ♦ Tablet: Not required (DRM-free)
♦ Genre: Adventure, History, Surreal, Visual novel, 2D, 3D, 1st & 3rd Person

Where the Water Tastes Like Wine is a narrative adventure game where the atmosphere of travels and amazing stories is combined with a unique visual design combining hand-drawn 2D illustrations with a three-dimensional game map.
Slowly explore the mysterious America of the Great Depression and meet strangers, each of whom has something to tell. Listen to their unique stories, share them with others and discover new topics for conversation. Thus, stories will become a valuable commodity, in exchange for which you can move on the plot of the game – and it's up to you to decide which story to tell each of the characters met during your journey. Correctly picking the key to the heroes, you can convince strangers to reveal themselves to you, and then you will be awarded with the strongest of stories that tear the veil from the innermost secrets of life. In the game Where the Water Tastes Like Wine, the stories live their lives, grow and change every time they are passed from mouth to mouth …
System requirements:
The minimum
☛ Operating system: Microsoft Windows 7/8/10 (64-bit)
☛ Processor: Intel Core 2 Duo E4500 (2 * 2200 MHz) or equivalent / AMD Athlon 64 X2 4200+ (2 * 2200 MHz) or equivalent
☛ RAM: 1 GB RAM
☛ Video card: GeForce 8500 GT with 512 MB VRAM / Radeon HD 4350 with 512 MB VRAM
☛ DirectX: Version 9.0c
☛ Free space on the hard disk: 6.42 GB
Features:
✔ A huge number of folk tales and stories from life that you have to find throughout America.
✔ Amazing combination of an extensive three-dimensional world and illustrated illustrations.
✔ Original stories created by a variety of professional authors.
✔ Voices of unique characters were presented by famous actors of the sound and celebrities, including Sting, Dave Fennoy (The Walking Dead: A Telltale Game Series), Sissy Jones (Firewatch), Kimberly Brooks (Mass Effect), Sarah Elmale (Gone Home), Melissa Hutchinson (The Walking Dead: A Telltale Game Series), Elizabeth Maxwell (The Legend of Zelda: Breath of The Wild) and many others.
✔ A stunning original soundtrack from composer Ryan Hayk (nominated for the BAFTA award for music for the Gunpoint game), recorded together with many other talented performers.
✔ A unique atmosphere full of fantasy, psychedelia and surrealism.
How to install and run the game
① Run setup_where_the_water_tastes_like_wine_1.3.1_ (64bit) _ (19983) .exe from the game folder. Owners of the previous version of the game need to run patch_where_the_water_tastes_like_wine_1.3_ (19942) _to_1.3.1_ (19983) .exe.
② Install the game or patch in the preferred directory, following the instructions of the installer.
③ Click on the desktop shortcut on the desktop, running it as administrator (Right-click on the shortcut ⇛ Properties ⇛ Compatibility ⇛ Run this program as administrator).
④ Wandering through free American prairies, getting acquainted with extraordinary personalities, and turning to pure ears, to receive inimitable folklore and aesthetic pleasure from their phantasmagoric but deeply instructive stories from life, whose taste is comparable only with the best wine bouquets.
Sceenshot : https://postimg.cc/gallery/2ub9ec50o/
Download Where the Water Tastes Like Wine 2018 1.3.1 [GOG]-DRM-free With Nitroflare and Purchase Premium cheap